Flex-40MX (Newly Upgraded)
World's best-selling multi-role crewboat
With segregated HVAC between decks, numbered seatings, plus other new features!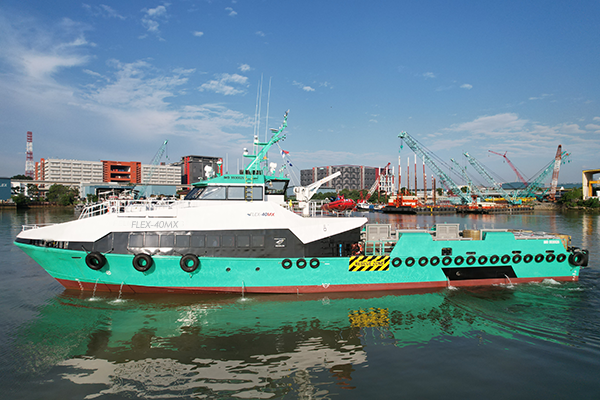 Vessel Overview
Vessel
Aluminium Monohull Fast Multi-Role Support VesselBased on Penguin's proprietary and proven Flex-40 crewboat series Designed and built by Penguin Shipyard
Delivery
Coming Soon
Classification
BV |, ✠Hull, ●Mach, Crew Boat, Sea Area 3
Safety Regulation
BV and Malaysia Flag State requirements
Regs, Codes, Guidelines
MARPOL, SOLAS, IMDG
Hull Particulars
Length Overall
40.00 m
Breadth Moulded
7.60 m
Depth Moulded
3.65 m
Loaded Draft
1.89 m
Accommodation and Storage
MAIN DECK
Passenger Seats
Business Class, 70 pax
Seating Arrangement
2-2-2-2
Seat Pitch
1050 mm
Passenger Toilets
3 cubicles with showers
Passenger Shower
1 cubicle
Entertainment System
2 x LCD TV screen
Fully Equipped Pantry for Passengers
Fitted
Luggage Rack
Fitted
BELOW MAIN DECK
Crew Cabins / Total Bunks
4 / 10(3 x 2-man, 1 x 4-man)
Crew Toilet
1 cubicle with shower
Entertainment System
1 x LCD TV screen
Crew Mess and Galley
Fitted
Crew Washer and Dryer
Fitted
Fridge
3 units
Dry Store
Fitted
Work Bench
Fitted
Cargo Deck
Clear Deck Area
96 sqm
Deck Cargo Capacity
60 MT
Deck Strength
2.0 MT / sqm
Deck Dimensions
16.5 m x 6.0 m
Cargo Railing Height
1.0 m
Tank Capacities
Fuel Oil
82,000 L
Bunker Flowmeter
Fitted
FuelTrax EFMS
Ready
Fresh Water
30,000 L
Grey Water
500 L
Lube Oil
750 L
Gear Oil
430 L
Hydraulic Oil
430 L
Fuel Oil Sludge
600 L
IMO-Approved Sewage Treatment Plant
Fitted for 15 pax
IMO-Approved Oily Water Separator
15 ppm
Performance
Maximum Speed
28 knots @ 100% MCR
Maximum Fuel Consumption
768 L/hr
Economical Speed
26 knots @ 85% MCR
Economical Fuel Consumption
720 L/hr
Main Machinery
Number of Main Engines
3 units with resilient mountings
Make / Model
MAN D2862 LE466
Total BHP
3 x 1,400 BHP @ 2,100 rpm
Propellers
3 x fixed pitch, Ni-Al-Bronze, 5 blades
Bow Thruster
1 unit hydraulic-driven @ 100 HP
Generating Sets (Auxiliaries)
Generators
3 x Caterpillar SR4 Alternator 86 ekW
Prime Movers
3 x 125 BHP @ 1500 rpm
Make / Model
Caterpillar C4.4
Vessel Power Supply
415/220 Volt AC, 50 Hz, 3-phase + 24 Volt DC
Shore Power / Reefer Sockets
1 / 4
Tonnage
GRT
279 MT
NRT
89 MT
DWT
135 MT
Electronics and Controls
GMDSS
Sea Area A1+A2
VHF
Sailor 6222
MF/HF Radio
Sailor 6310
SSB Radio
Icom IC-M710
BNWAS
LeGuardian2025
Marine Radar
Simrad Halo-3
GPS
Simrad P2005
Depth / Echo Sounder
Simrad P319
Autopilot
Simrad AP70
Satellite Compass
Simrad P3007
Magnetic Compass
Riviera 6″
Navtex
JMC NT1800
Public Address / Intercom System
Vingtor CIS-3130
Search Lights
3 x 1000W
EPIRB
McMurdo E8
SART
McMurdo S4
AIS
Simrad V5035
CCTV
12 units fitted (5 x Exterior, 4 x Interior, 2 x Engine Room, 1 x Bow Thruster Room)
Safety Equipment
Life Rafts
6 x 25-man, 2 x 10-man as per SOLAS
Life Jackets
86 on board as per SOLAS
Life Buoys
8 on board as per SOLAS
Other Equipment
Pyrotechnics, line-throwing apparatus
Rescue Zone
Port and Starboard
Emergency Response Features
1 x external FiFi monitor with remote clutch and control @ 600 cbm per hour
Aerosol fire extinguishing system
SOLAS rescue boat with davit
For General Arrangement and additional information, please email
psa@penguin.com.sg
. We will attend to your enquiry promptly.